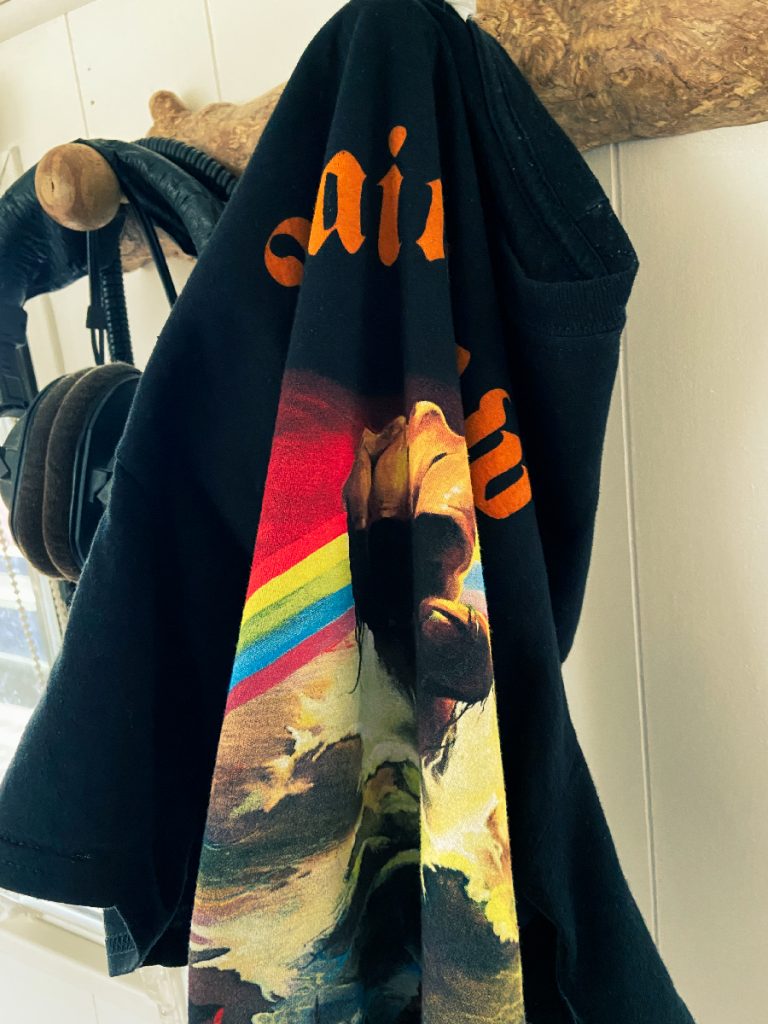 ---
This is the first of a series of Recommended albums blogs. It's reserved for albums where everything comes together to create the perfect…
Rainbow Rising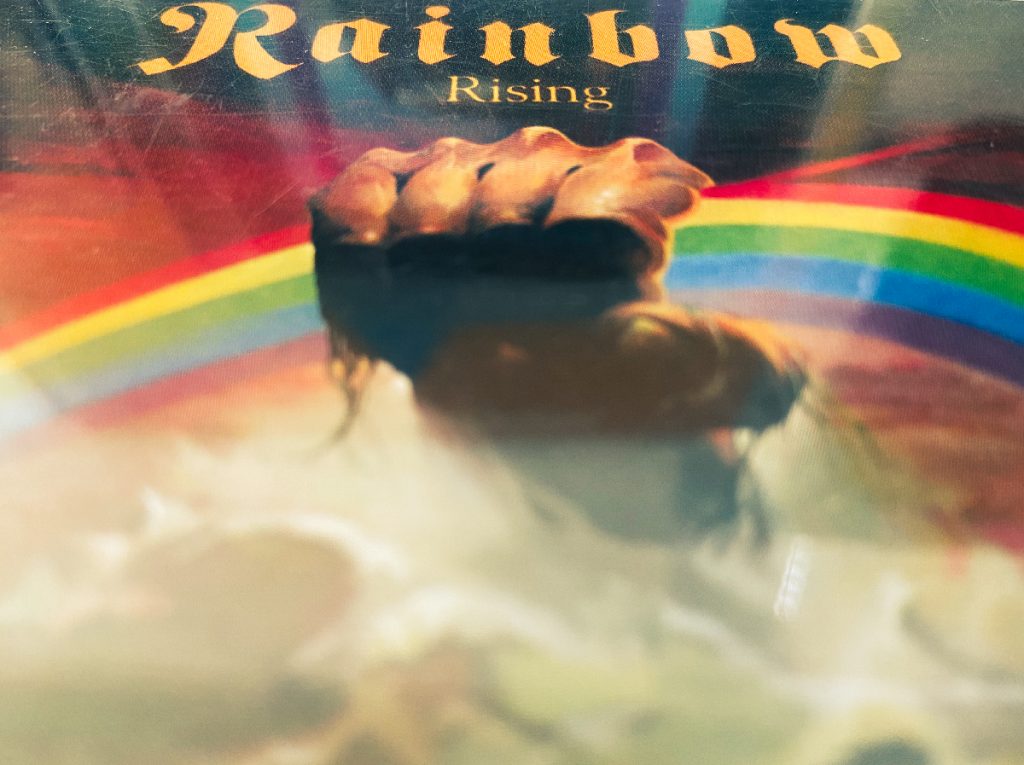 Album: Rainbow Rising
Track Listing: 1. Tarot Woman (5.58), 2. Run With The Wolf (3.48), 3. Starstruck (4.06), 4. Do You Close Your Eyes (2.58), 5. Stargazer (8.26) 6. A Light In The Black (8.12)
Band: Rainbow
Band Members: Bass – Jimmy Bain, Guitar – Richie Blackmore, Vocals – Ronnie James Dio, Drums – Cozy Powell
Produced by: Martin Birch
Published: 1976
Label: Polydor
I owned this album on vinyl but sold it (A Condensed History Pt. 2). I later bought the Remaster on CD. It's the second album dropping "Richie Blackmore's" from the name to just Rainbow.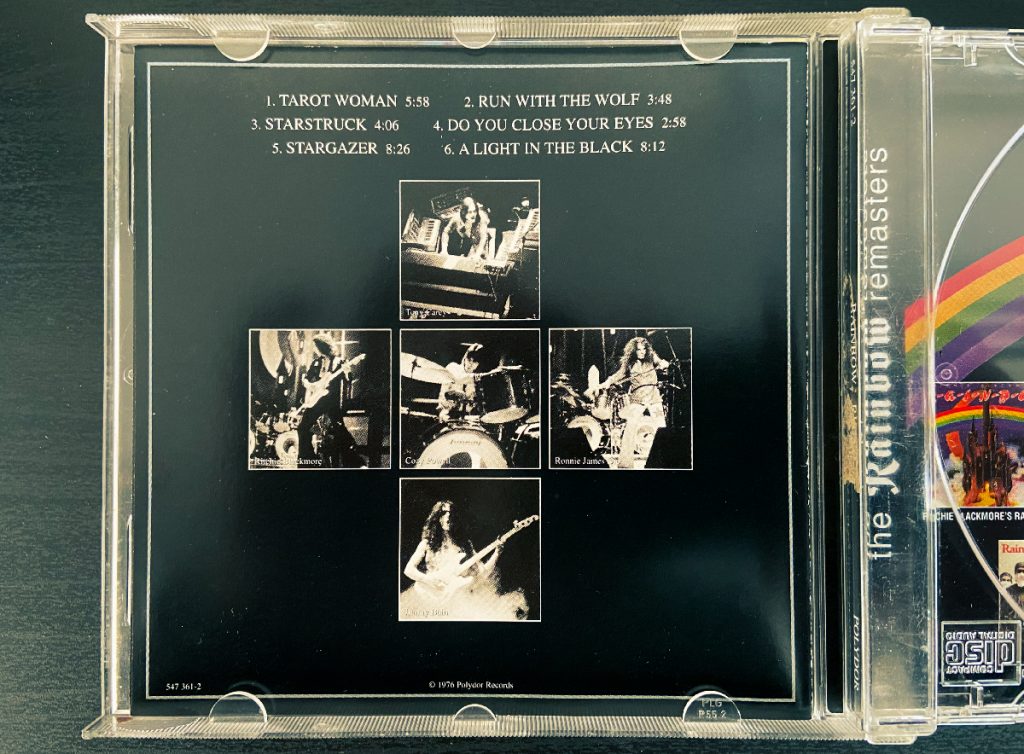 Looking at the list of band members tells you straight away that this is to be something special – a 'supergroup'. The band was put together by Ronnie James Dio. He could have sang with no-name, non-musicians and the album would have been excellent but in bringing together the people he did, he created something special.
I never got to see Rainbow but I did get to see Cozy Powell (A Condensed History Pt. 2). He is best known for his track "Dance With The Devil" – which can be seen live here. As mu and the children and I moved house, we later got to live, unbeknown to us, very near to where Cozy tragically lost his life. He died in a car accident. I feel privileged to have seen him – RIP Cozy.
The Album
The theme of the album: Fantasy make me want to pick up a high Fantasy novel and start reading (after the album has finished, of course). It brings in two tracks 3. & 4. That are not about traditional fantasy but Starstruck talks about a stalker who obviously 'fantasises' about a band member. "Do You Close Your Eyes" alludes to the fantasy of love – well, these are my interpretations. (No liner notes were harmed in the making of this blog).
Track Run Through
It is a short album, just six tracks but is all the better for this. As I run through each track, this is what I see
Tarot Woman: Weaving keyboard, driving beat from drummer, the guitar tone is to die for…
Run With The Wolf: Move onto a more bouncy track, really tight
Starstruck: The guitar into… the subject matter still very much pertinent to today – that ending!
Do You Close Your Eyes: Singing along at the top of your voice to this track, people looking as they pass… sharp finish
Stargazer: The drum intro is epic. Fantasy topic at the forefront, guitar break, mentions "Rainbow Rising", long form track
A Light In The Black: A fast, riffing track, a longer track with a finish to die for – leave 'em wanting more! Rainbow Rising certainly does that.
Ronnie James Dio had one of the greatest voices in Rock and this album shows it off – RIP Ronnie.
For me, it's an injection of Rock directly into the brain – a short album but perfect in its execution – Absolutely Recommended