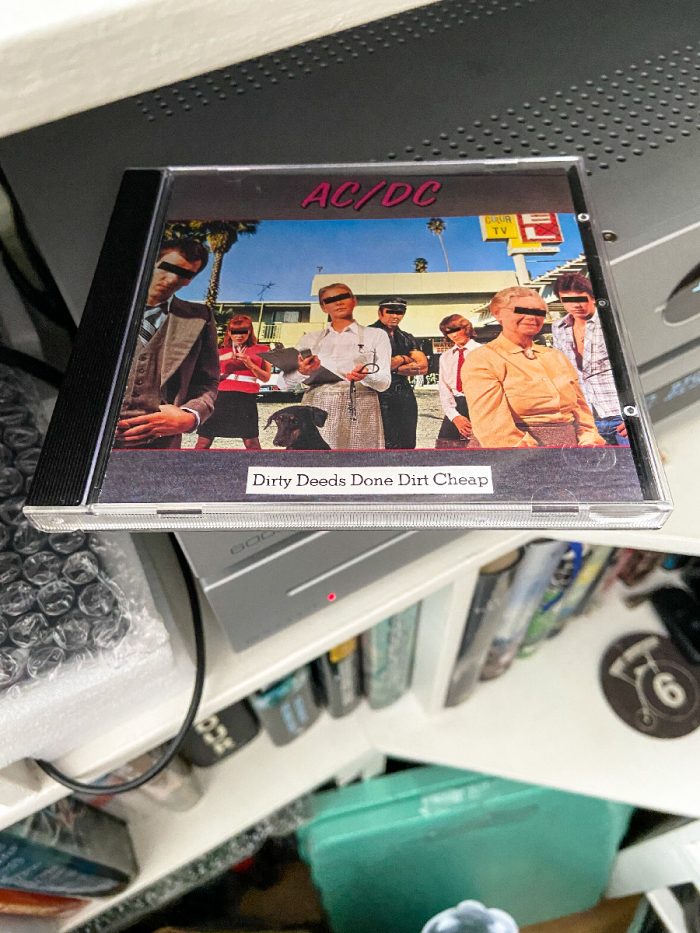 A Recommended album blog. Reserved for albums where everything comes together to create the perfect…In this case, we have Rock and Roll from the '70's, song after song, riff after riff and humour…
Dirty Deeds Done Dirt Cheap
Album: Dirty Deeds Done Dirt Cheap
Track Listing: 1. Dirty Deeds Done Dirt Cheap (3:46), 2. Love at First Feel (3:05), 3. Big Balls (2:39), 4. Rocker (2:46), 5. Problem Child (5:43), 6. There's Gonna Be Some Rockin' (3:14), 7. Ain't No Fun (Waiting Round To Be A Millionaire) (6:57), 8. Ride On (5:47), 9. Squealer (5:12)
Band: AC/DC
Band Members: Bonn Scott – lead vocals, Angus Young – lead guitar, Malcolm Young – rhythm guitar, backing vocals, Mark Evans – Bass Guitar, Phil Rudd – Drums, George Young – Bass on Track 3
Produced by: Vanda and Young
Published: 1976
Label: Atco Records, Division of Atlantic Recording Corporation
Atco 7567-92414-2 1994
1976 Cover designed and photographed HIPGNOSIS
The Album
The album is AC/DC's third studio album, although the second to be released in Europe, coming after High Voltage. Bonn Scott is the Lead Singer on this album – legendary R.I.P. It houses the track: Ain't No Fun (Waiting Round To Be A Millionaire) which is one of my favourite DC tracks. (Source: Wikipedia)
Track Run Through
CD Listing
Dirty Deeds Done Dirt Cheap (3:46) – an absolute AC/DC classic song. It would be my favourite if it wasn't for Track 7.
Love at First Feel (3:05) – musically brilliant but not my favourite lyrically
Big Balls (2:39) – the funniest, cleverest song on this album
Rocker (2:46) – short, fast, punk, rock
Problem Child (5:43) – another absolute classic AC/DC song
There's Gonna Be Some Rockin' (3:14) – great rock and roll track
Ain't No Fun (Waiting Round To Be A Millionaire) – my favourite song on this album, it builds – I love it!
Ride On – a slow, bluesy number that takes me on a journey with Bon Scott
Squealer (5:12) – lyrics haven't travelled well but a great track
History
Again, this is one of those albums I owned on vinyl but sold (see Difficult Times buried deep down in A Condensed History Pt. 2). I own the CD which is the 'digitally remastered from the original master tapes' one from 1994. This album came out at the height of Punk and co-existed comfortably with it. I was watching the AC/DC documentary: Dirty Deeds and this prompted me to play the album. Wow! AC/DC are so good, so important and such great people in this band.
I'm sure I saw AC/DC live in 1976 but can't be sure in the haze of time passing. I did see them, along with mu at ?????, in 2nnn.
The Album Cover
The album cover captures the 'of the moment', down and dirty nature of this album. It's like it's trying to be serious but you know it's funny. A HIPGNOSIS classic.
There is such a lot of (dark) humour in this album but it's capturing what life is like for a rock and roll band – it's a long way to the top but AC/DC well and truly made it several times over!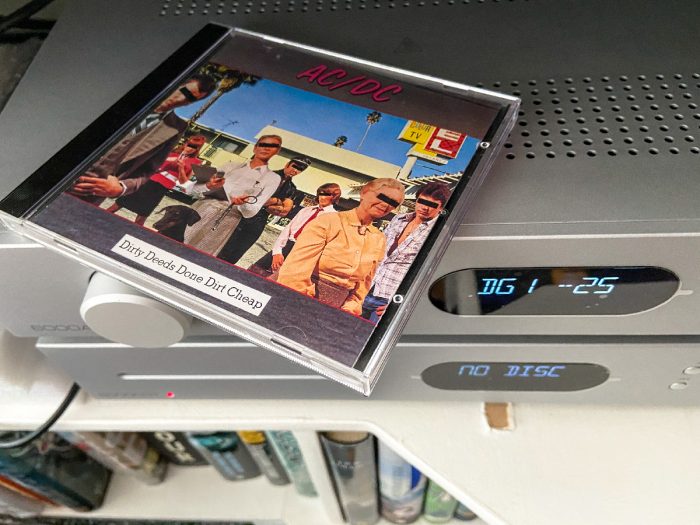 This album is Absolutely Recommended