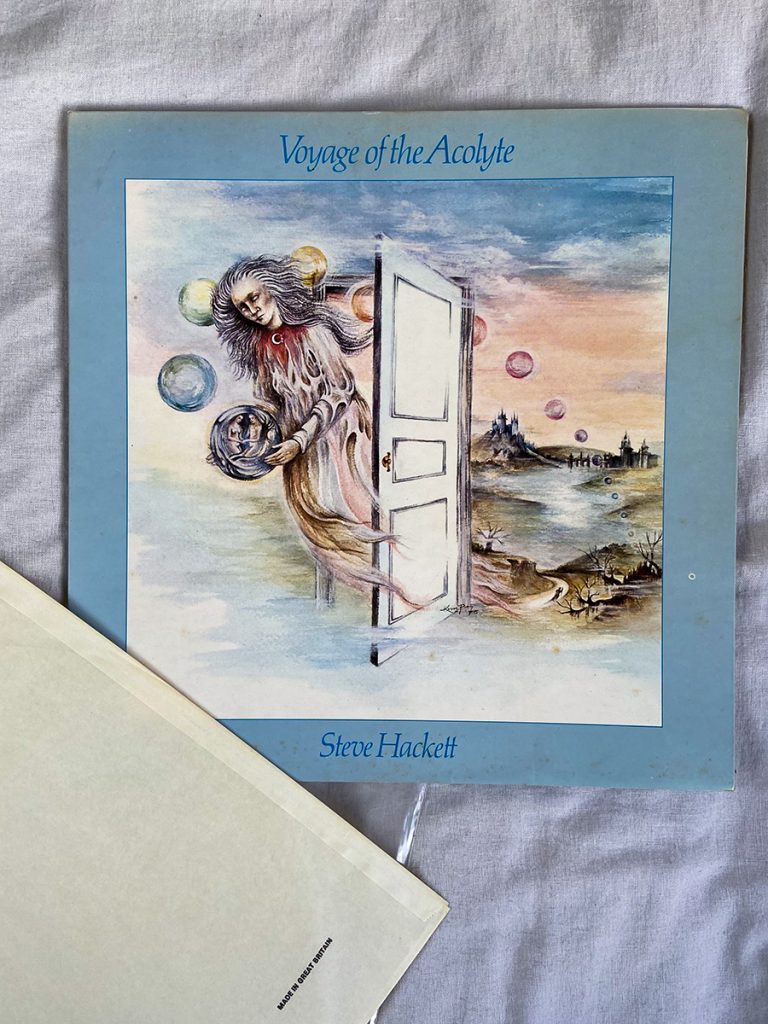 ---
A Recommended album blog. Reserved for albums where everything comes together to create the perfect…
I'm taken on a Voyage.
Voyage of the Acolyte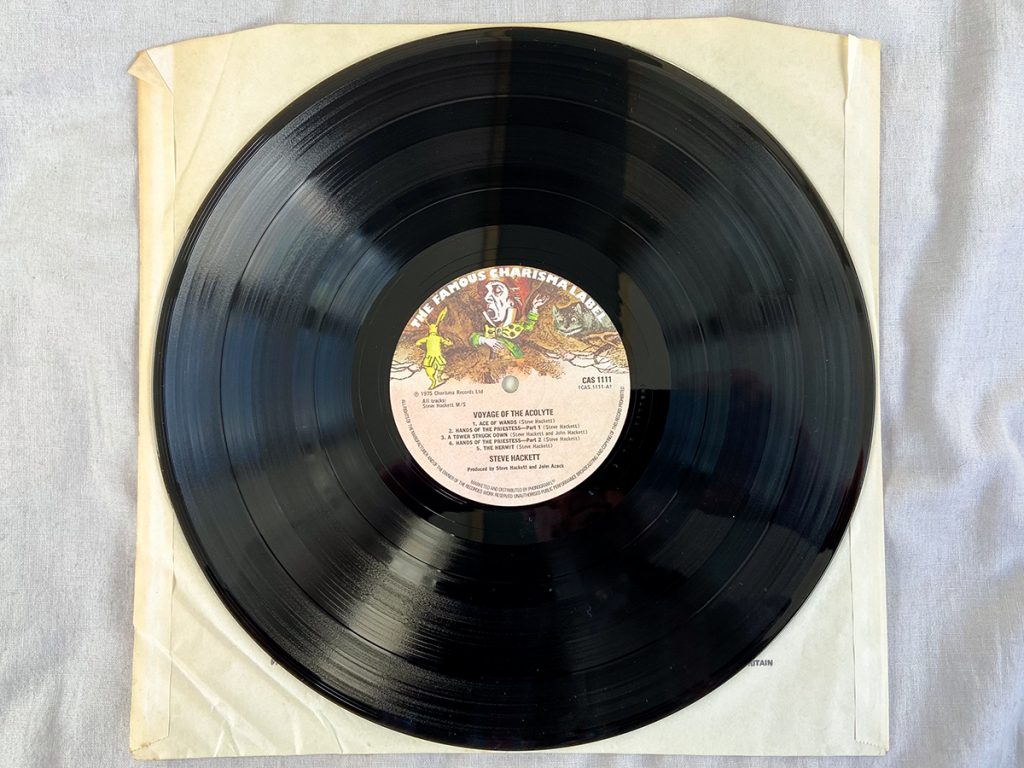 Album: Voyage of the Acolyte
Track Listing: Side 1: 1. Ace of Wands, 2. Hands of the Priestess Part I, 3. A Tower Struck Down, 4. Hands of the Priestess Part II, 5. The Hermit Side 2: 1. Star of Sirius , 2. The Lovers, 3. Shadow of the Hierophant
Band: Steve Hackett
Band Members: Guitar – Steve Hackett, Flute, Synth – John Hackett, Bass – Mike Rutherford*, Drums – Phil Collins, Mellotron, Harmonium, Piano, John Acock, Vocals – Sally Oldfield and Steve Hackett, Obeo & Cor Anglais – Robin Miller, Solo Cello – Nigel Warren-Green, Cough – Steve Tobin. *Bass on "Star" – Johnny Gustafson
Produced by: Steve Hackett/John Acock
Published: 1975
Label: Charisma
In my younger days, on the journey through music (see A Condensed History – pt 1 thru 6) as a disciple to the alter of Rock, I came across "Voyage of the Acolyte". A solo album by Steve Hackett of Genesis fame. Two members of Genesis play on the album with Hackett. I voyaged with this album, it truly took me to another place. I played it again this morning and it sounded as wonderful now, as it did then.
The cover art was created in 1975 by Kim Poor (to whom the album was dedicated to).
The album was on The Famous Charisma Label – that logo of the Mad Hatter makes the greatest centre of any piece of vinyl.
The Album
This album is deals with the theme of Tarot, using cards from the Tarot deck to title its tracks and inform its content.
Track Run Through
Side 1
"Ace of Wands" – thrown straight in Arp Synth slows towards the end – restarts apace – that guitar.
"Hands of the Priestess Part I" – beautiful – flute – words like mournful, awakening, peaceful
"A Tower Struck Down" – menacing – inner gatefold watercolour of the tower – cough lol – continue
"Hands of the Priestess Part II" –
"The Hermit" – makes me think of ELP and some of their songs, like "Take a Pebble" – first track with lyrics – "The Mantle of attainment" I love those words – delicate – beautiful guitar…
Side 2
"Star of Sirius" – vocal – acoustic, synth then breaks into driving beat – pastoral – driving beat – Bass by Johnny Gustafson.
The delicate start of "The Lovers" – Sally Oldfield vocals
"Shadow of the Hierophant" – builds, just how I like songs to do – plaintiff – rises then falls, quietly into nothingness. I find myself whistling the refrain long after the track has finished.
That word Hierophant, it's wonderful. I remember looking it up at the time. I had to look it up again, just to be sure of what it meant. It is a word inexorably linked with Tarot. It conjures up the mysterious, uncommon, otherworldly…
Sally Oldfield vocals – she sings on this album, on the track – "The Lovers". I have her 1978 album > "Water Bearer" and hadn't twigged she sang on "Voyage" until now. I bought the "Water Bearer" album for the Tolkien references. I'm a big Tolkien fan.
History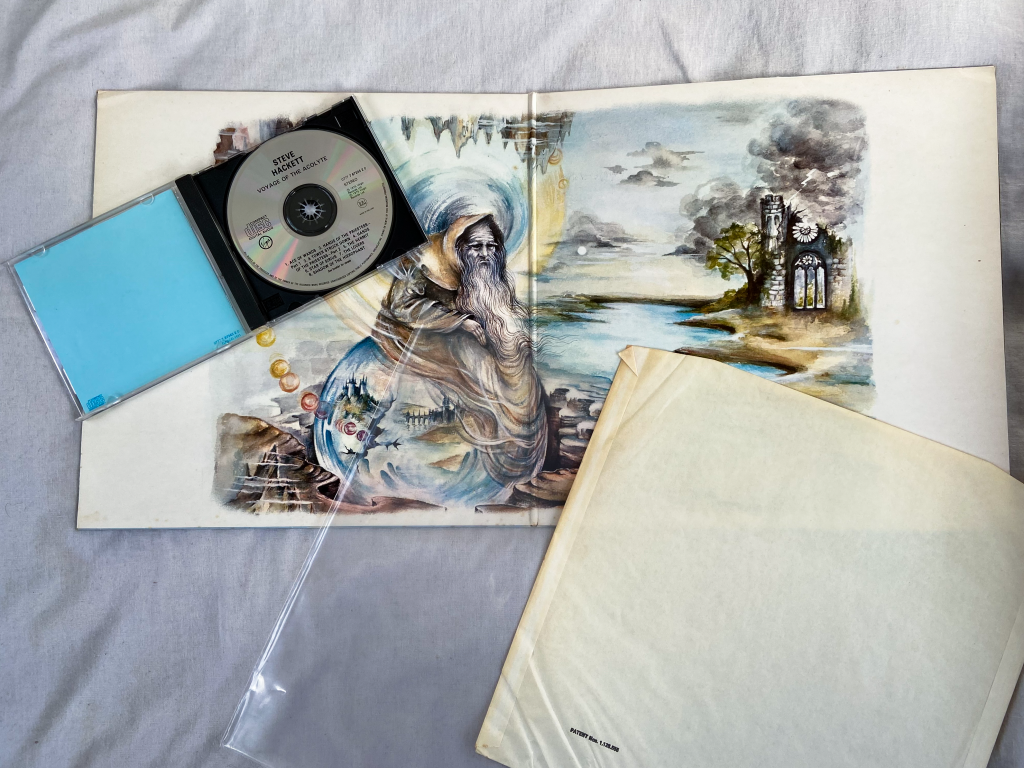 I wrote about this album cover for my CSE English Language (I was required to take 'O' Level & CSE for English). I have always loved it, it made a big impression upon me. The whole package of cover art, music, theme comes together as a beautiful album. So great to play again today. I won't leave it so long to play again in future.
This is Progressive Rock at its finest – a mystical voyage, executed with atmosphere – A holy grail of albums – Absolutely Recommended