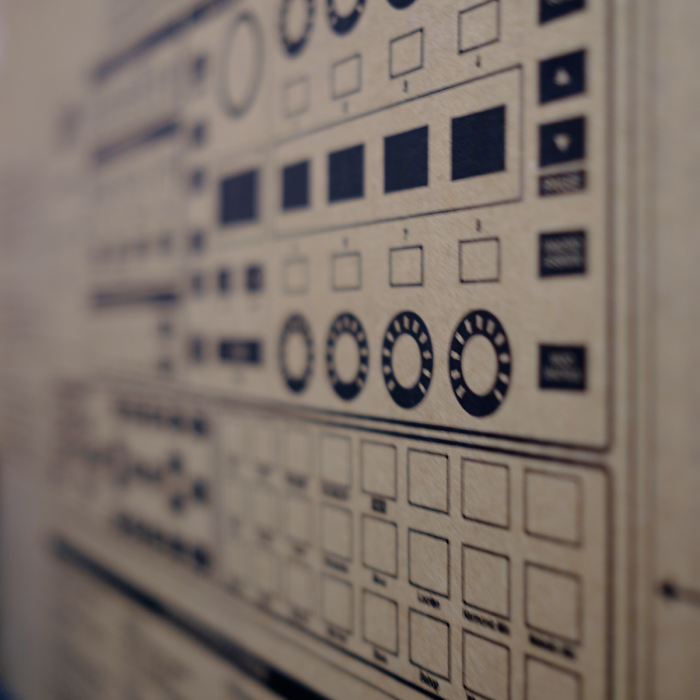 Introduction
Still a fan but slowly moving in a new direction, from fan to fan & creator. But still musicfan6160.
I dabbled with the idea of learning the guitar but it was just that, the idea of it. I bought all the gear and had no idea! Time was spent learning some of the theory but the practice never followed.
Recently, I decided to trade in my guitar equipment, to focus upon the synth.
There are two reasons for this

I have synths and have dabbled in the past. In the more recent past, I set up a small studio but this coincided with a move. It's taken me this long to get back to a state where I can once more think about this
I have a project: futureperfected, that is making me focus. All my efforts are aimed at realising it. A synth-led approach is the way I want pursue this, from a music perspective
musicfan6160 – The Studio
With that said, in support of a new direction for musicfan6160, I have set about setting up a modest studio. I hi-lighted the following key components as necessary
Studio Components

Digital Audio Workstation (DAW)
MIDI Keyboard
Synthesizer/s
Audio Interface
Speakers
Cables
Computer
So, looking at each component in a little more depth
Digital Audio Workstation (DAW)
For a Digital Audio Workstation (DAW), I already have this covered with Reason Studios and Reason 10. I have had Reason since an early version (they were called Propellerheads then), did little with it but then upgraded it to try again. I also have Ableton and Ableton Live 10 Standard. Both DAW's work, meaning I don't have to upgrade them at expense.
MIDI keyboard
I purchased a MIDI keyboard. My decision went to the M-Audio and the M-Audio Oxygen 25 Pro. I needed a small form factor and the fact that this expressly stated it worked with Reason, sealed it. Let's face it, all MIDI keyboards are going to work with Ableton Live.
Synthesizer/s
Synthesizer/s – so, at the very beginning of this post I mentioned that I traded in my guitar/amp setup for a synthesizer. It was just sat there, doing nothing (because I wasn't playing it). After much deliberation and finding I couldn't get enough money from the trade in of my old kit to get a Novation Peak, I went with ASM and got the ASM Hydrasynth Desktop. I am so glad I did.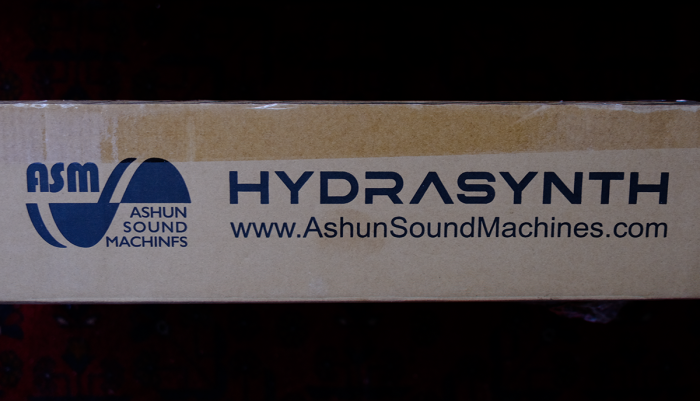 The ASM Hydrasynth Desktop is an 8-voice polyphonic digital wave morphing synthesizer and billed as 'a sound designer's dream' by ASM. It is perfect for my setup. It's new, it is different to what I already have, the form factor is perfect, it's not a novice synth so there will be plenty of headroom for me to learn and not get bored of and although it is complex, it is fairly intuitive to use. Oh, it's also freakin' cool (you even get stickers included, a nice touch – I'm a sucker for a sticker).
My other synths are a Moog Grandmother and a Korg MS2000.
At present, the Grandmother is packed away in a box (lol, had to get that in there somewhere). It covers the iconic monophonic angle and is also a way into Modular (although that's some ways off, yet).
The MS200 is under a bed, at my Mother-in-law's. It is an Analogue Modelling 4-voice polyphonic synthesizer from the year 2000. The next time mu and I travel down there, it will be coming back with us. I remember it has some really lush sounds.
The two synths will have to be used in a one-at-a-time kind of way as there isn't room to have them out at once. The Hydrasynth has pride of place (it fits neatly on my stand).
Audio Interface
An Audio Interface. Ah, yes. An Audio Interface. I had this covered, I had a Focusrite Saffire 6 USB. I connected it up but found out it didn't work with Windows 11 (after lots of playing about). A second trip to PMT Cambridge saw me obtaining a Focusrite Scarlett 4i4 however this was just the day after I had been there, purchasing the Hydrasynth! I hadn't expected being back so soon. I did get a good deal on it; price-matched and below. It softened the blow, a little.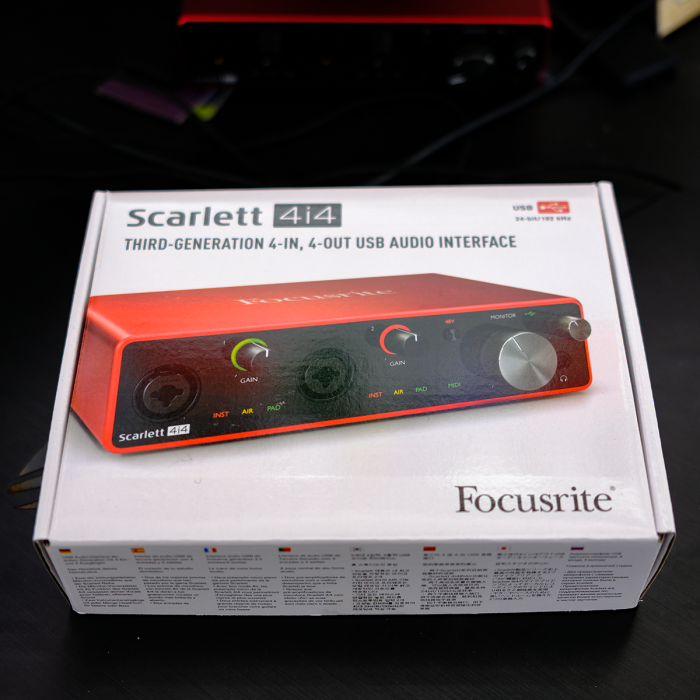 I'm happy with the Scarlett 4i4. It's a small form factor and breeze to set up. I have only heard good things about it. It has more inputs than the Saffire so will take the synths. The Saffire was still going strong, it was just the end-of-life and drivers that let it down.
Speakers
For Speakers, I own a pair of Yamaha HS50M's. They may not be the best monitors but I'm using what I've got.
For Headphones, I'm using Sennheiser HD600's.
Cables
Cables. I'm using Stagg for the HS50M's. Theu are the only cables of note. for now.
For computing power, my trusty ASUS laptop is on point duty with an Intel Core i7 10th Gen. I also have a separate ASUS monitor for some computing real estate.
Plug-ins
Plug-ins. It's a wish list at the moment but after a lot of research, the following have made the cut (it's a big list)
These are the plug-ins I'm currently wishing for
For Reason Specifically
Scenic Hybrid Instrument Cinematic sounds Reason Studios [99] [7.99]
Aura-7 Cinematic Atmosphere Soundscape Generator SKP Sound Design [44]
Noise Engineering's Freequel Bundle Free Eurorack bundle Noise Engineering (Ruina, Sinc Vereor, Virt Vereor) [0]
Complex-1 Modular Synthesizer Modular Synthesizer Reason Studios [99] [7.99]
Blackpole Station Polyphonic Synthesizer Waveform based synth Turn2on [24]
Nostromo Spectral Synthesizer Spectrum Table Synth Lectric Panda LLC [24]
For Ableton Specifically
Synthi AKS by Soniccouture. Sounds for Ableton Live 10 [39]
Analogik Waves II by Flatpack. Sounds for Ableton Live 10 [39]
VST Synths
Galactic Assistant Advanced UI Synth SoundMorph [29]
Noises AudioThing [69]
Dials by AudioThing [79]
Obsession Analog Modeling Synth Synapse Audio [85]
Cinemagic for Obsession Synapse Audio [30]
Go2 Rob Papen [49/25]
The Jellyfish – Mimu [99]
CA2600 Synthesizer – Cherry Audio [39]
VST Synths – Free Ones
Surge XT open [0]
Pendulate Chaotic Monosynth New Fangled Audio [0]
Odin 2 The Wave Garden [0]
VK-1 Viking Monosynth Synthesizer Blamsoft [0]
Exakt Lite Sonic Bits [FM, easy] [0]
Vital [Wavetable] [0]
VST Synths – Future purchase, more expensive ones
DUST Binaural Granular Synthesizer SoundMorph [109]
Generate Marquee Chaotic Polysynth New Fangled Audio [Modern – Trailer, Cinematic!][149]
Synthi V by Arturia [149]
Pigments 3 by Arturia
Synapse Audio Software – Dune 3 [179($)]
Straylight NI [Granular] [179]
Arkhis NI [179]
Lores NI [179]
SEKTOR by Initial Audio [Wavetable] [139]
Phase Plant Kilohearts [199]
VST Effects
Driftmaker Puremagnetik [0]
Fogpad igorski.nl [0]
Mu Pulsar [compressor/limiter] [149]
Decapitator Analog Saturation Modeler Sound Toys [199]
The Studio – Summary
In summary, you can see I have all the gear but this time I have some idea. A little, but it's a start. I also have the most important thing and that's motivation. I'm motivated and I feel this is more in tune with me and what I want to achieve. A large part of my music collection (modest as it is) has synthesizer-based music at its fore. I have been exploring Tangerine Dream again, both the earlier works (of Froese, Franke and Baumann) and the latter ones (with Thorsten Quaeschning and co. taking the band forward). There is a lot of later electronic, synth music I will be re-visiting.
I remember a time, looking at the back of Queen's vinyl albums and seeing the words 'No synthesizers' (see here for further info) and at that time thinking 'fair enough'. I knew little of synthesizers and anything that could be gleaned about them was being reported by some of the press negatively. It was a little time after this, synthesizers came to the fore of music, pioneered by many bands and artists I came to love. And still do. I moved on from Queen (still loving Queen I & I and Sheer Heart Attack) and into Punk. Punk ushered in many things and for me, and synthesizers was one of those things (see A Condensed History Pt. 1 onwards).
What is this all for?
The question has to be what is this all for? Well, as briefly mentioned in the Introduction, it is for a project and that project is futureperfected.
What is futureperfected? it is a story, it is an image and it will also be a sound. It's starting to take shape and hopefully my transition from fan to fan & creator will evolve, entwined with futureperfected like some complex synth patch of mutating sound waves.
Check out futureperfected. It is unfolding before your very eyes…
It is indeed a new direction for musicfan6160.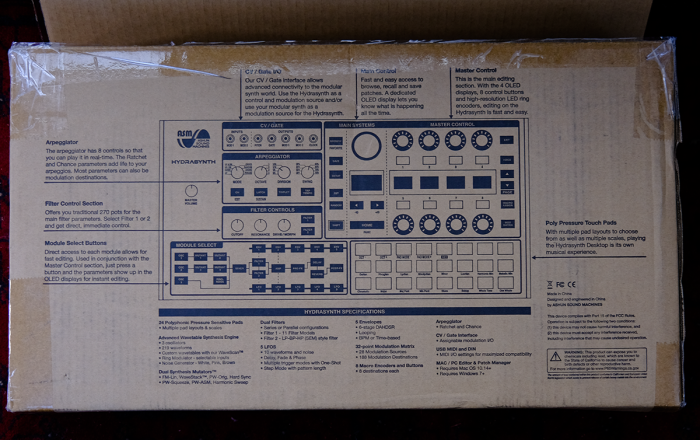 Peace and music
rp